Partners & Linkages
The Joji Ilagan International Schools is the leading Hospitality , Culinary and Tourism School in Mindanao with vast global and international Partners.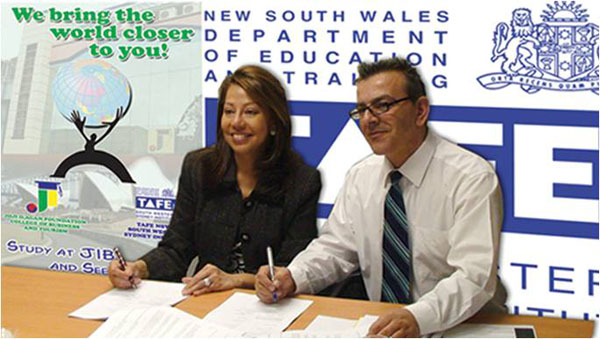 TAFE NSW - SOUTH WESTERN SYDNEY INSTITUTE (TAFE NSW SWSI) AND INSTITUTE OF INTERNATIONAL CULINARY AND HOSPITALITY ENTREPRENEURSHIP (ICHEF) and JOJI ILAGAN CAREER CENTER FOUNDATION INC.
TAFE NSW - South Western Sydney Institute (SWSI) located in Sydney, Australia and ICHEF/JICC, the leading Hospitality and Tourism School in Davao City, Philippines signed the agreement on January 2008 in Sydney signifying the commitment of the two institutions to offer the Certificate III Hospitality Course in the ICHEF School in Davao City.
TAFE NSW SWSI is one of the largest TAFE Institutes in NSW with over 74,000 students and nine (9) colleges in Sydney as well as International locations. This partnership will bring hospitality courses of international standards to the Southern part of the Philippines, giving opportunity to students in Davao City and Mindanao to gain access to globally recognized hospitality courses. The ICHEF has the most modern hospitality facilities in the region and is known for its strong industry partnership and highly skilled and competitive graduates in the area of hotel and restaurant management.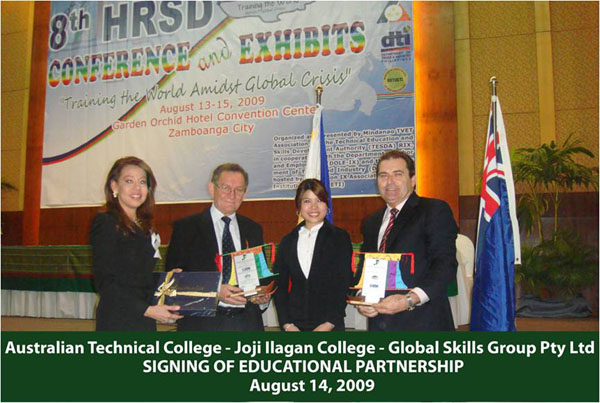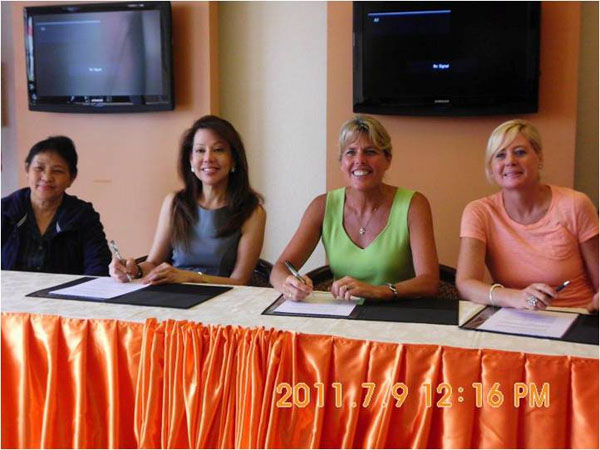 Cindi Reiman, Chair of the American Hospitality Academy (AHA) in the United States and Joji Ilagan Bian, Chair of the Joji Ilagan Careen Center Foundation (Davao City) and International School of Hotel and Tourism Management (General Santos City) in the Philippines had signed a Memorandum of Partnership that will give all Students of both schools membership access to the E-Global Cafe of the AHA. Students from these schools in the Philippines will have the opportunity to exchange educational and cultural experiences in hospitality and tourism with students of AHA Schools all over the world. There will also be a Career Forum where students can have information on the different career options for them all over the world.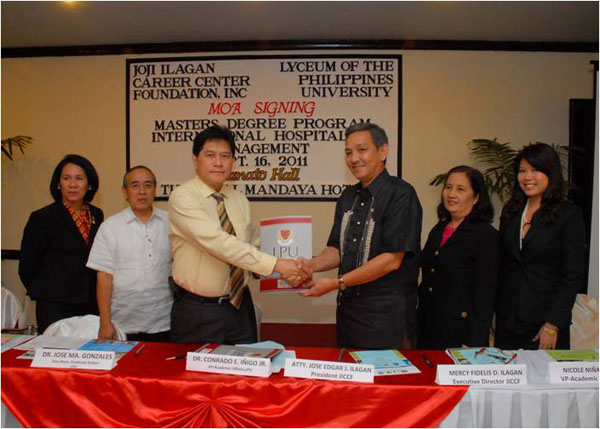 MASTERS IN HOSPITALITY MANAGEMENT. The Lyceum University, Tourism and Culinary School here in Davao City, the Joji Ilagan International College of Business and Tourism (JIB) to jointly offer the Masters Diploma in Hospitality Management . Professors of Lyceum will deliver the program here in Davao and General Santos Cities in the JIB Schools. Classes will be every weekend and will start on October 2011. The signing was done at the Royal Mandaya Hotel, September 16, 2011. Shown in Photo (L-R) Maria Christina G. Aquino (Executive Director, Planning and Development- LPU), Dr. Jose Ma. Gonzales (Vice-Dean Graduate School-LPU), Dr. Conrado E. Iñigo Jr. (VP-Academic Affairs-LPU), Atty. Jose Edgard J. Ilagan (President-JICCF), Mercy Fidelis D. Ilagan (Executive Director-JICCF), Nicole Niña I. Bian (VP-Academic Affairs-JICCF).
Education Partners

TAFE South Western Sydney Institute

Australian Trade Training College

American Hospitality Academy
Industry Partners

Emirates Palace

Pearl Farm Beach Resort

Grand Men Seng Hotel

Apo View Hotel Davao

Marco Polo Davao

Boracay Regency Beach Resort Philippines

Waterfront Insular Hotel Davao

Negros Navigation

D'Leonor Hotel

Bali Mandira Beach Resort & Spa, Indonesia
News Updates
MR. & MS. JIB-IS IEXCEL 2015
Nine elegant, witty and dazzling pairs gazed the Mr. And Ms. JIB-IS 2015 pageant held at the Robinsons Place General Santos. The said pageant was ... read more
ICHEFs DAY 2014
"Pass it on!" the guiding principle of the ICHEF's DAY 2014, inspired by an American tradition which is the S'mores and Ca... read more
Contact Us
International School of
Hotel and Tourism Management
JIB Building, Leon Llido St., City Heights
General Santos City,
Philippines 9500

Tel. No.: +63 (83) 553-8498
Mobile No.: +63 (932) 242-8309
Email: jibinternationalschool@jojiilagancareercenter.com